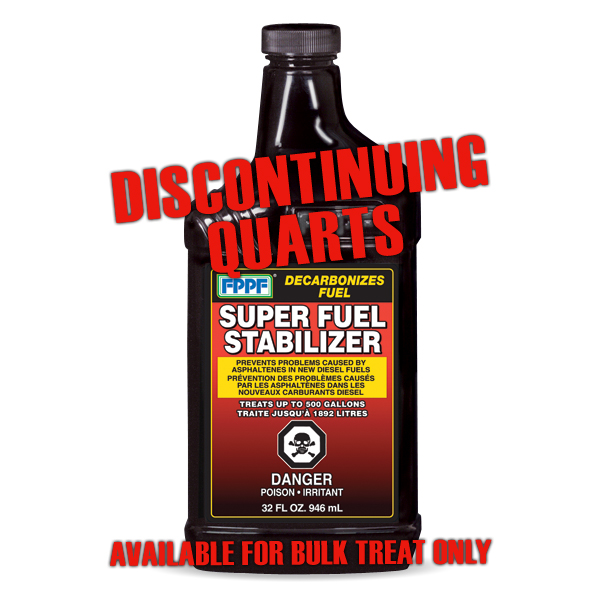 Long Term Diesel Fuel Stability
Slow the aging process of your diesel fuel with FPPF Super Fuel Stabilizer. Diesel fuel and home heating oil tend to age during storage. During the aging process fuel darkens in color and causes hard starting, white or black exhaust smoke, injector deposits, rough running, vibrations and filter plugging. Super Fuel Stabilizer is a highly effective, concentrated blend of additives that slows or prevents the aging of diesel fuel and home heating oil. It meets or exceeds US Military and ASTM standards for preventing the aging of middle distillate fuels. Super Fuel Stabilizer also exceeds the minimum standards established by NATO, Australia and engine turbine manufacturers. Make your fuel forever young with FPPF Super Fuel Stabilizer.
Item # / Case #
Treats (Gal.)
Qty per Case / Unit Size
Case Weight
Cases / Pallet
00602
500
32 oz.
90602
12 / 32 oz.
24
48
00510P
10000
5 gal.
40
36
00552D
110000
55 gal.
450
4
SDS Coming Soon
Info Sheet Coming Soon
You May Also Be Interested In: