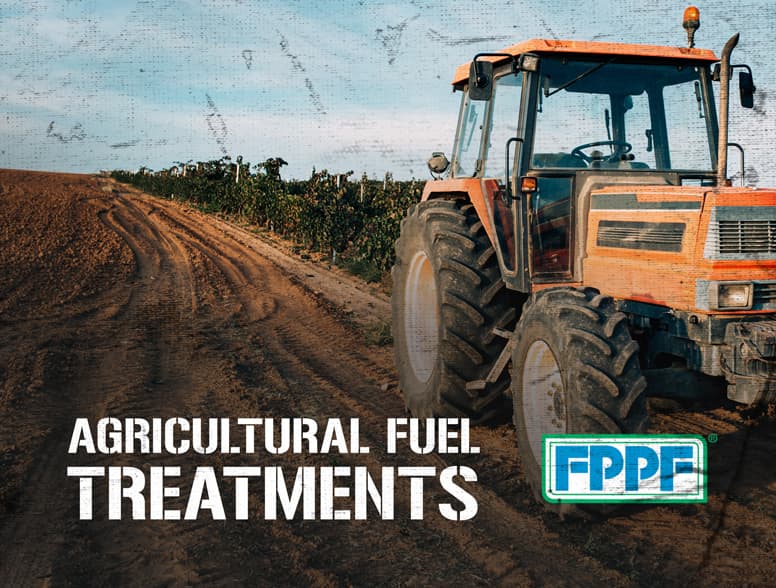 Agricultural Fuel Treatments
The vast majority of farm equipment runs on diesel fuel. FPPF has a long history of providing farmers with high-quality, premium fuel additives for trucks, tractors, plows and even farm fuel storage tanks. 
Keep the Farm Running
What's the best way to make sure your farm equipment stays up and running at top efficiency for longer? The answer is to regularly treat your agricultural machines with Agri Fuel Treatment from FPPF. 
Your farm equipment is unique. It's not your daily driver or the diesel-powered haulers out on the road. Your farm engines deserve and need a customized formula. FPPF understands what premium off-road engines require to run smoothly and it's a premium concentrate that provides several maintenance and performance benefits. 
FPPF Agri Fuel Treatment works to solve a number of your agricultural fuel problems. Our premium fuel additive works tirelessly to clean fuel injectors, eliminate water in fuel and increase overall power and engine combustion. Even if you use gasoline-powered vehicles, Agri Fuel Treatment can be used in any internal combustion engine working well in both diesel fuel and gasoline. 
FPPF Killem is also an effective fuel additive for agricultural purposes. Killem eliminates water (the breeding ground for bacteria) and kills harmful bacteria on-site. One of the reasons why Killem has proven to be so beneficial to farmers and haulers alike is because Killem works to reduce tank corrosion. This is especially important for diesel fuel that's being stored. Stored diesel fuels, whether it's at your home or on your farm, will inevitably collect water, sodium and other detrimental deposits. Make sure your diesel stays as fresh and powerful as possible by treating it with highly concentrated Killem from FPPF. 
Treat the Farm Year-Round
You shouldn't rely on fuel treatments only during heavy workload months. It's important to treat your farm equipment's engines all year-round, especially in the cold winter months to ensure a smoother, more efficient start to the farming season. It's also important to remember to treat your stored fuel (and home heating oil) during the off-months. Don't wait until you have an issue to treat fuel with FPPF.