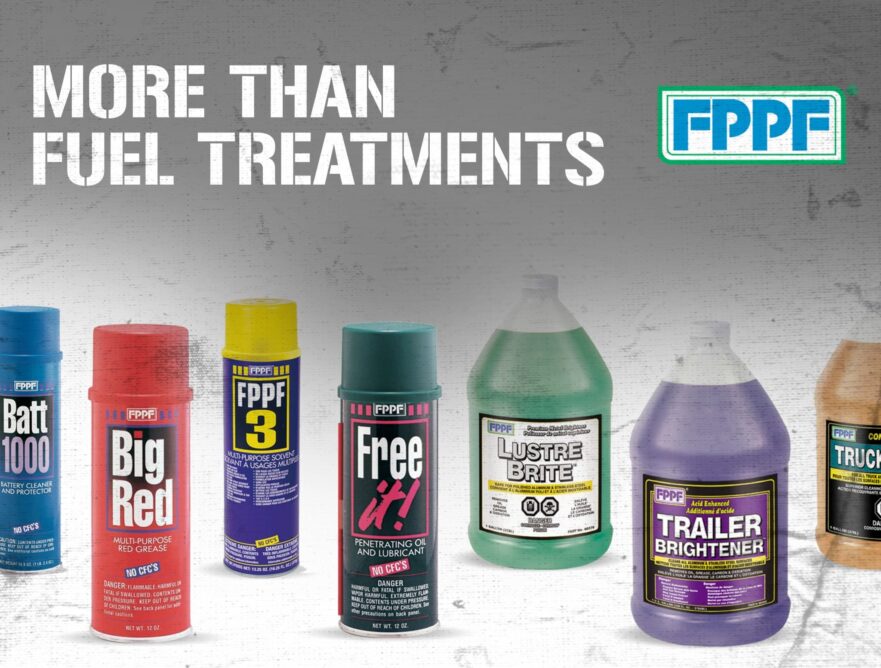 FPPF Is More Than Fuel Treatments
You've come to know FPPF as your go-to for specially formulated fuel additives. But did you know we also offer a wide array of other products aimed at keeping your machines looking clean and running as efficiently as possible? We've developed a whole line of environmentally friendly aerosol products (The Green Team) as well as trailer and truck washes. FPPF takes care of your vehicles inside and out. 
The Green Team
Cleaner batteries live longer. And nothing cleans batteries quite like FPPF Batt 1000. Batt 1000 is formulated to keep your battery clean and extend its lifespan by penetrating and emulsifying dirt, grease and corrosive deposits. It's even designed to provide a safe and convenient method of checking battery acids. In the presence of battery acid, Batt 1000 turns pink or red. 
Get big, multi-purpose results with FPPF Big Red Multi-Purpose Red Grease. We formulated this grease to withstand temperatures up to 500ºF and resist "throw-off" from moving parts. What's more, Big Red contains special additives to fight rust, wear, oxidation and acid without containing pollutant chlorofluorocarbons. 
FPPF provides a clear view of proactive vehicle maintenance. FPPF Complete Glass Cleaner is a biodegradable, CFC-free spray-on glass cleaner that effortlessly cuts through tough dirt giving you a streak-proof, fogless glass finish. Get rid of dirt and grime without the carbon footprint and residue. 
FPPF makes sure even the smallest, hardest-to-reach metal surfaces are protected. FPPF 3 Multi-Purpose Solvent sprays on to cylinders, springs and other metal surfaces, reducing wear and cleaning even the toughest corrosive residue. Blast away grease without releasing any harmful CFCs with FPPF Multi-Purpose Solvent. 
Nothing loosens rusted, corroded or frozen parts in such an environmentally friendly way as FPPF Free It! Penetrating Oil and Lubricant. Free It! deeply penetrates and lubricates even the toughest rust and corrosion and creates a protective barrier preventing future corrosion—all without harmful CFCs.
Premium Washes
Keep the original luster of your surfaces. FPPF Lustre Brite is specially formulated to clean stainless steel and polished aluminum. Our unique combination of detergents and mild acid removes the hard-to-clean road grime, dirt and grease brightening your metal so it looks as good as new. 
Haul brighter with a solution that handles even the toughest metal-cleaning jobs. FPPF Trailer Brightener's powerful acid formula chemically removes oxidation from aluminum and stainless steel as well as light corrosion. Trailer Brightener achieves a bright new appearance for your trailer without harming surfaces. 
FPPF takes care of your truck from the inside out. After you've treated your truck's fuel, be sure to treat it just as well on the outside with FPPF concentrated Truck Wash. Truck Wash dissolves even the most stubborn types of grime, dirt, road film and grease with a combination of detergents and solvents that attacks without weakening surface tension. The special solvent we add to Truck Wash also promotes sheeting, making rinsing easier and faster without pesky water spots. 
Learn more about what these FPPF products, as well as our complete line of fuel additives, can do for you and your vehicles.